UVCEGA UnConference
Summer Edition
What is this UnConference? It is exactly what you imagine to be — opposite of a conference. There will be no fixed agenda or schedule or speakers.
This is an exclusive event for the UVCEians, by the UVCEians
Date: April 22nd, 2023, Saturday
Time: 10:30 AM Onwards
Venue: UVCE, KR Circle Campus | View Map

Please confirm your presence and also inform your friends | RSVP Link
Some Background
UnConference - An unconference is a participant-driven meeting. The term "unconference" has been applied, or self-applied, to a wide range of gatherings that try to avoid hierarchical aspects of a conventional conference, such as sponsored presentations and top-down organization (Source: Wikipedia)
We wanted to bring this culture of open discussions, sharing ideas amongst the students and alumni in UVCE. We intend to rely on the passion and the responsibility of the participants - students, faculty and alumni of UVCE. There will be no speakers explicitly in this event, but only discussion starters.
This is an experiment we are trying out for the first time and are equally excited like you are, to see where this leads to. Though there are no rules in an UnConference, for the sake of volunteers and organizers, we are putting few boundaries
Boundaries
The event is scheduled between 11AM to 1:30PM
The people who want to become "Discussion Starters" will need to be present in the venue by 10:30AM.. It will be a "First Come, First Serve" basis
For this Summer edition, we have two categories on which the discussions can be held:

Social Media & Mental Health
Artifical Intelligence & Ethics

We have restricted ourselves to 2 venues. That is 2 Sessions/Discussions can go on in parallel at a given time. We are experimenting with the formats everytime and it will continue this year too.
Each session will be time-boxed for 30 mins and a gap of 10 mins before the next group can assemble along with the discussion starter

Slot 1- 11:00 AM to 11:30 AM
Slot 2- 11:40 AM to 12:10 PM
Slot 3- 12:20 PM to 12:50 PM
Special*- 1:00 PM to 1:30 PM

So, in total, for this Summer edition, we will have 6 discussions (3 slots in 2 rooms) + Human Library*
People can schedule sessions (discussion starters) by specifying the exact topic under the Category from 10:30 onwards near the Registration Desks. The same will be updated to all the participants who can decide which venue and slot they want to be part of.
Participants need not be mere listeners and contribute their views, ideas, suggestions too during the discussion.
If you want to walk out of the discussion at any point of time, feel free to do so. But, we encourage you to stay and listen which can trigger a new perspective to you. Being patient helps !!
* Human Library is something we are trying new, where we will have individuals narrate 1-2 experiences with the audience. And later, audience can ask them questions related to the narration. Basically, humans are replacing the books and will share 1-2 chapters from their life along with answering the queries at the end. Read more about Human Library and the concept here What we are trying is our intepretation of this and a new experiment.
We will stick to the timings very strictly. So, please be on-time (the request goes to the discussion starters too)
RSVP Now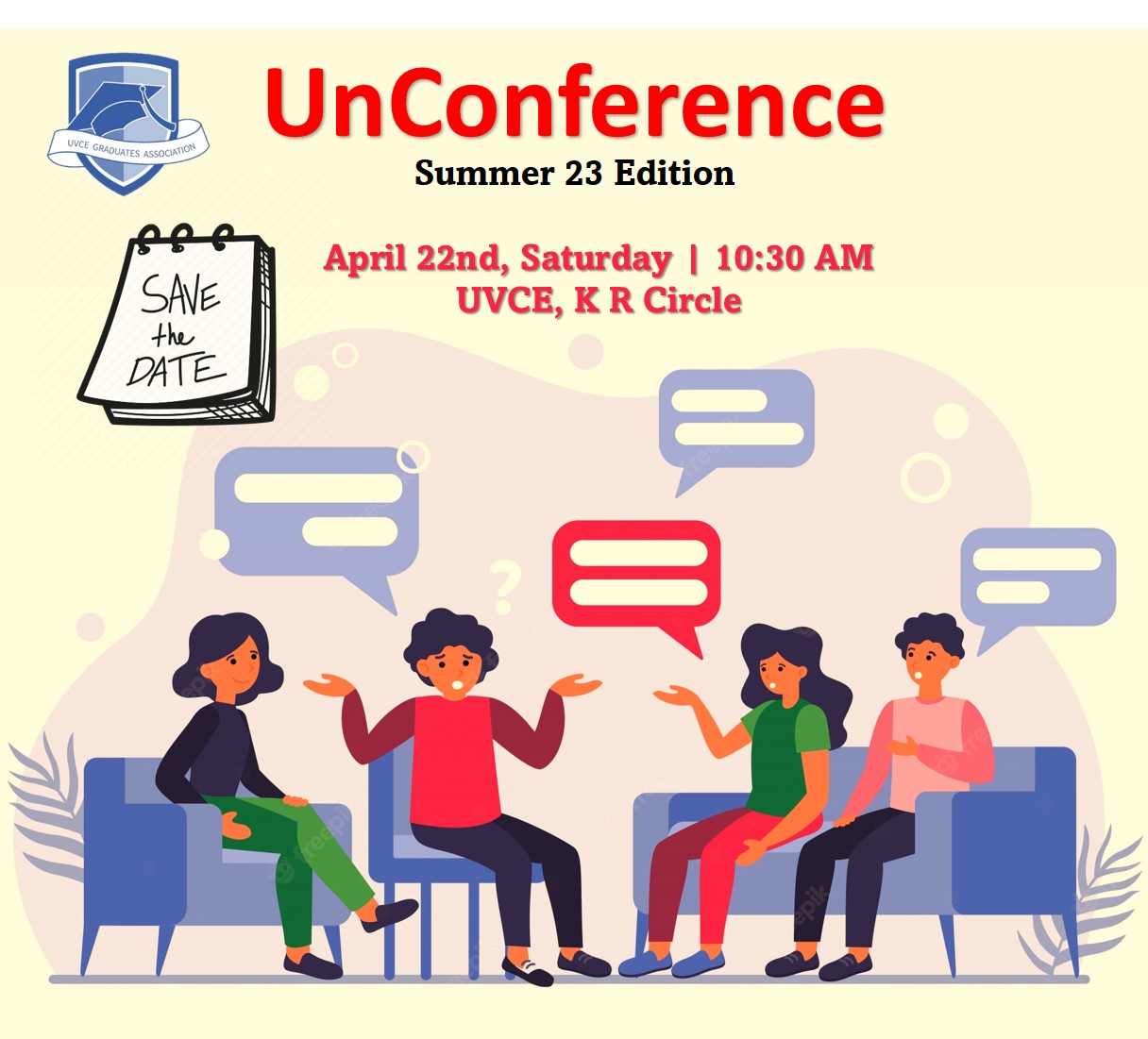 Explanation Videos
In a Nutshell:
In Total, there will be 2 Venues in parallel
3 Time slots
11:00 AM to 11:30 AM
11:40 AM to 12:10 PM
12:20 PM to 12:50 PM
Plus Human Library
Two Categories for Discussion
Social Media & Mental Health
Artifical Intelligence & Ethics
Note to Alumni
Here is an opportunity to meet your friends and also the present students and interact with them. Also, you can visit the MARVEL - R&D Lab setup by UVCEGA in the college.
If you are not a member of UVCEGA yet, please do register.You can find the list of our members here
Interested to Become Member?